Macroalgal blooms in a changing environment
About this event
Important!!!
This workshop is part of the International Marine Science Conference 2020 - #ICMS2020. Please, if you want to attend the event you must be registered at the conference. Registration is open until September 19th. All the information related to the event can be found at the following link marinescience.co
Description
Coastal environments are constantly facing multiple stressors, including habitat modification and destruction, exploitation of living and non-living resources, bioinvasions, pollution and climate change.
Macroalgal blooms are one of the changes associated to these stressors, and consist in temporal, rapid and extremely abundant growth of one or few species of algae. This biomass may cause decline in seagrass and non-blooming macroalgal beds, hypoxia, and cause fish death.
In this workshop, five experts will present examples of macroalgal blooms, discuss the possible causes of these events and their impact on coastal ecosystems. We invite all participants interested in the topic to address their questions to the presenters and have an open discussion at the end of the symposium.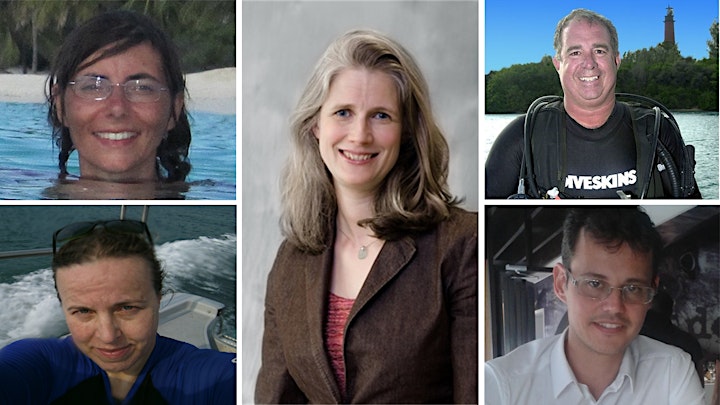 Brigitte Gavio is Associate Professor at the Department of Biology of Universidad Nacional de Colombia, Bogotá. She has a Ph.D. in Biology and since her bachelor has been attracted by macroalgae. Dr. Gavio´s research interests span macroalgal diversity, taxonomy and systematics, invasive species, macroalgal blooms and seagrass ecology. Her work in Colombia has focused mainly on the diversity of macroalgae in the Seaflower Biosphere Reserve, and she has participated to the Scientific Expedition Seaflower to unravel the diversity of the marine flora of the Archipelago of San Andres.
Dr. Brian E. Lapointe is internationally renowned for his research on water quality and macroalgal blooms in tropical and subtropical seagrass and coral reef ecosystems. Brian is a Ph.D. in Biology from the University of South Florida (1982). He has worked at Woods Hole Oceanographic Institution, Skidaway Institute of Oceanography, and is currently a Research Professor in the Marine Ecosystem Health Program at Florida Atlantic University (FAU) - Harbor Branch Oceanographic Institute (HBOI) in Ft. Pierce, FL. Since 1974, Dr. Lapointe has assessed nutrient pollution and macroalgal blooms in coastal waters of South Florida and the Caribbean region. Although his current work focuses on the eutrophication of the Indian River Lagoon and the Sargassum influx to the Caribbean region, he has led numerous research expeditions in Bermuda, Bahamas, Belize, Cuba, Jamaica, Martinique, Trinidad & Tobago, Bonaire, Curacao, St. Lucia, Barbados, and the Great Barrier Reef, Australia. Dr. Lapointe pioneered the use of ecological nutrient threshold concentrations that initiate macroalgal blooms, as well as the use of stable nitrogen isotopes to "fingerprint" the source(s) of nitrogen enrichment. He established the longest low-level nutrient record for a coral reef anywhere in the world at Looe Key reef in the lower Florida Keys. Dr. Lapointe has published over 120 scientific papers, four book chapters, and was a contributing author of the book "Clean Coastal Waters: Understanding and Reducing Nutrient Pollution" published by the National Academy of Sciences.
Dr. Ricardo Bermejo is a postdoctoral researcher at the University of Cádiz in Spain, where he is leading a project focused on the development of a methodology to obtain red seaweed seeds from protoplasts in order to develop seaweed cultures of commercial interest that can contribute to nutrient abatement in coastal and estuarine environments. His primary research goals are directed toward understanding the ecology and biogeography of assemblages dominated by macrophytes at different biological (from populations genetics to landscape patterns) and spatial levels (from local to entire ecoregions), as well as, the influence of human pressures in littoral ecosystems and applied phycology (e.g. seaweed cultivation, bioindicators, ecosystem restoration). Currently, he is collaborating in the EPA (Irish Environmental Protection Agency) funded project MACROMAN, aiming to identify management actions to reduce the impact of macroalgal blooms in a global change context.
Dr. Carol Thornber is a Professor of Natural Resources Science and the Director of University Research Operations at the University of Rhode Island, USA. Dr. Thornber is a marine ecologist and phycologist, with expertise in macroalgal bloom dynamics, coastal food webs, invasive species, seaweed aquaculture, and marine population and community ecology. Her research has spanned the globe and multidisciplinary in nature, including collaborations with environmental and ocean engineers, molecular biologists, and chemical ecologists. Dr. Thornber's students and postdoctoral researchers have become faculty, work for nonprofit environmental organizations, environmental consultants, and environmental lawyers, among other professions. Dr. Thornber has long standing interests in ensuring equity, diversity, and inclusion for all in marine sciences.
Monica Puyana, Professor of Marine Biology and Coordinator of the Master's Program in Bioprospecting and Biotrade at Universidad Jorge Tadeo Lozano. Marine Biologist, PhD in Oceanography from Scripps Institution of Oceanography, UCSD. Lines of Research: Marine Chemical Ecology, Bioprospecting, Cyanobacteria, Ethnobotany,Fouling.
Organizer of Workshop 4: Macroalgal blooms