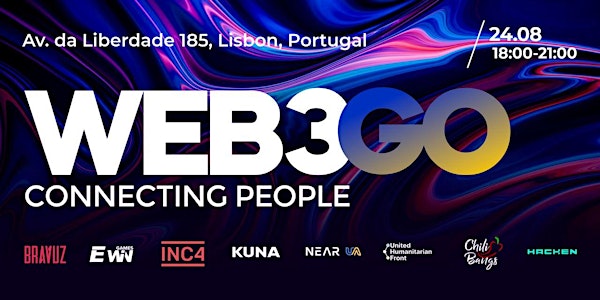 Web3Go Build & Connect
Join us as we come together in unity and alliance, to empower our community with technology and tools.
When and where
Location
Tivoli Avenida Av. da Liberdade 185 1250-096 Lisboa Portugal
Refund Policy
Contact the organizer to request a refund.
Eventbrite's fee is nonrefundable.
About this event
About this event
The Web3Go event, taking place on Wednesday, August 24th, will see members of Near UA, Startup Portugal, Aicep Global, Web3 main founders and the special guest speaker Ambassador of Israel to Portugal, Mr. Dor Shapira take to the stage in the Tivoli Hotel auditorium. More than 8 speakers, 300 attendees and 50 investors will be taking part in the event, alongside 100 startups and partners.
Portugal, now emerging as new expat hot spot in the world, will host Web3 founders, investors and representatives from Portugal, Israel and Ukraine to discuss how to catalyze the sustainable economic growth and social development in Portugal through the Startup Nation mindset.
Attendees will be able to connect in person with people like Sasha Antropov that is using Web3 in a way to dodge ongoing global treats using blockchain to finance humanitarian projects.
Remember, "Your Network Is Your Net Worth."
Join the telegram group here.
🎆 Who we are 🎆
We are an organization in Lisbon that helps different types of communities (Ukrainian, Portuguese, the Israeli government, local government, and foreigners) to build strong relationships.
Our events are subject to top-class quality and standards focused on global leaders' connection of international businesses with government authorities, crypto investors, developers, and the UA. community.
🎇 What to Expect from us 🎇
We will have Brilliant Minds and Intellectual Leaders inside and outside the Web3 space to help answer some of our burning questions on finances, blockchain and governance.
We believe that Web3Go community together with the Portuguese tech ecosystem might be able to develop Portuguese Villages promoting those areas to the digital nomads looking for healthier lifestyle.
We will also discuss the importance of charity as our goal is to receive donations for reconstructing residential buildings and municipal infrastructure (kindergartens, schools, hospitals) affected in Ukraine. Some of the topics that will be covered:
How to build a trustworthy bridge between blockchain, society and government.
How to use Web3 to boost Portugal socio-economically
Portuguese One Stop Shop for foreign founders and startups
Portugal: The untouched "Silicon Valley"
Israel as a role model of Start-up Nation
How to make money during a bear market
Features of professional market making for crypto projects
The criteria for choosing a startup for investment
Technological discoveries and innovations that we would like to see a result of the end of the bear market cycle And Lots more.
Our renowned seasoned speakers will expand your understanding of crypto in crucial areas of blockchain finance.
Be a part of our community to know more.
🌇 Know Your Event 🌇
Speakers and Panelists for the day:
- Special Speaker: Mr. Ambassador Dor Shapira - ambassador of Israel to Portugal since August 2021. Director of the Coordination Department at the Director General's Bureau, Ministry of Foreign Affairs. 2013-2017 - Minister Counselor for Congressional Affairs at the embassy of Israel in Washington DC
- Panelist: Patricia Roque - Head of Community and Communications @ Startup Portugal
- Panelist: Pedro Silveira - Aicep Global - Direção Comercial/Startups
- Speaker: Dimitriy Yastremskiy - Chief of Staff at NEAR UA - a regional hub, community, venture fund & studio, accelerator, event & hiring services for the NEAR ecosystem. Partner at TNX Ventures - a NEAR ecosystem web3 fund from Builders to Builders. In crypto since 2016.
https://instagram.com/ya_dimitriy?igshid=YmMyMTA2M2Y=
https://www.facebook.com/d.yastremskiy
- Speaker: Aliaksandr Sazonenka - Co-founder & COO Ewin Games Strategy and development control; Partnerships; Events; Mentoring of managers; Communication with the community; Market and competitor analysis. Currently based in Lisbon.
2+ years in mentoring, and advising core teams members
4+ years in soft development
6 + years in crypto market analysis and investing
10 + years in gaming (as a gamer and beta-tester 🙂)
Social Media:
https://www.linkedin.com/in/alex-ewin-254bb4206
https://twitter.com/asazonenka
- Speaker: Igor Stadnyk - Igor Stadnyk is Founder and CEO of INC4 and PembRock Finance, founder of Minerall.io mining pool, CTO of Ambrosus Ecosystem. Igor has a software development background and a proven track record of launching and leading blockchain projects since 2012. Helps fintech companies develop customized solutions in blockchain, crypto, DeFi and NFT.
https://twitter.com/IgorStadnykINC4
https://www.linkedin.com/in/stadnykigor/
- Speaker: Sasha Antropov - Blockchainer, Founder at United Humanitarian Front
-Founder at UHF, Partner at Hilman Ventures, BDO at PureFi
-6 years in crypto & IT
-Business developer, investor, advisor
https://www.facebook.com/profile.php?id=1657071699
https://www.linkedin.com/in/sasha-antropov-82a91784/
https://instagram.com/sasha.uhf?igshid=YmMyMTA2M2Y=
- Speaker: Kirill Kirikov - co-founder / CTO @ 4irelabs (blockchain consultancy)
co-founder / CTO @ Datrics (YC 2021) No-Code tool for Analytics and Machine Learning co-founder / CTO @ NEAR UA (Near protocol regional hub)
- Speaker: Igor Kryzhanovskyi- TEFFI Law Firm Managing partner, Attorney.
Attorney-at-law of the Year 2019 in the category "Tax Law"
Attorney-at-law of the Year 2020 in the category "Сorporate Law"
Agenda Of The Day:
- Mr. Ambassador Dor Shapira - ''The Rise of the Startap Nation''
- Dmitriy Yastremskiy - How to fundraise in a web3 start-up and why you need more than money. A VC's Perspective.
- Aliaksandr Sazonenka- NFT as a key to the blockchain gaming world.
- Igor Stadnyk - How to build a trustworthy bridge between blockchain, society, and government
- Sasha Antropov - "No time to freeze" or how UHF finances reconstruction projects in Ukraine.
📝 Program Of Event 📝
18:00-18:50– Networking.
19:00-19:02 – Opening event.
19:02-19:05 Sergey's opening speech
19:05 - 19:20 – Ambassador Dor Shapira
19:20-19:25 Questions to the Ambassador
19:25 - 19:40 – Panel ''Expanding your startup internationally using Portugal as base''
Panelist: Patricia Roque
Panelist: Pedro Silveira
19:40-19:55 – Aliaksandr Sazonenka
19:55-20:05 - Sasha Antropov
20:05-20:15 - Igor Stadnyk
20:15-20:30 - Panel Web3 Ukraine - Free Trade Zone - is it possible in Portugal?
Panelist:  Kirill Kirikov
Panelist: Igor Kryzhanovskyi
20:30-22:00 DJ + Networking + drinks
Venue
At the most beautiful and serene boulevard in central Lisbon, commonly referred to as "Avenida" by inhabitants of Lisbon.
The Avenida da Liberdade is a luxury home with a comfortable environment as it ushers you in with the warmth of its streets.
Time
6:00 pm till 09:00 pm.
Be at the venue as early as possible. It allows you to connect with the environment and fellow attendees, as we will be there early too.
⁉️ How To Participate ⁉️
Subscribe to our eventbrite and buy a ticket
We hope to see you there. ‼️
PLAN TO ATTEND.
Join the community 🌍
⛓️ Web3Go central community.
🗯 Event community telegram.
Partners
KUNA || Bravuz || Near UA || Ewin Games || INC4 || Chilibangs || Hacken || United Humanitarian Front