Este evento ha finalizado.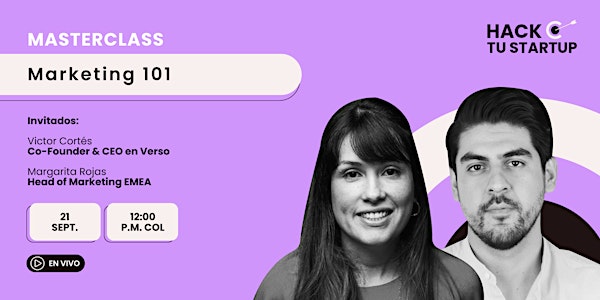 Masterclass: Marketing 101
Cómo crear tu estrategia de marketing
Acerca de este evento
Aparta tu cupo en nuestra próxima Masterclass: Marketing 101.
Estamos preparando todo para este evento que tendrá lugar el 21 de septiembre. Nuestro último evento contó con más de 200 asistentes, asegúrate de apartar tu lugar ya que tenemos cupos limitados.
Haz parte de nuestros eventos y aprende de la mano de expertos que escalan startups a negocios de etapa media y avanzada. Acompáñalos, compartirán sus estrategias, herramientas favoritas y cómo se inspiran.
Los perfiles de los expertos:
Víctor Cortés
Profesional motivado con un historial de trabajo en las industrias tecnológica, financiera y de medios. Experto en marketing, crecimiento, contenido, desarrollo de negocios, finanzas, investigación, administración y nuevas empresas.
Cofounder de Verso
Founder del podcast Tracción
Director de Marketing en Tribal
Cofounder y CEO de Contxto
Margarita Rojas
Apasionada por el crecimiento de nuevos mercados, la expansión internacional, el marketing de ingresos y la localización.
Head of Marketing EMEA
Member Board Of Directors en Latinas in Tech
Senior Marketing & Operations Manager - International (Acquired by Square) en Weebly
Ana Castrillón
Por años ha venido compartiendo conocimiento y experiencia con líderes en tecnología y startups. Ha contado con la participación en empresas como Zendesk, Voxbone (adquirida por Bandwidth en 2020), Figma y actualmente es la Head de Marketing en Toku. Largo camino apoyando a equipos internacionales en los mercados de APAC, LATAM, EMEA y EE. UU. Cosmopolitan y ha vivido en España, Colombia, Estados Unidos, México, Francia y ahora Inglaterra.
Algunos de los temas de la masterclass:
Cómo definir tus objetivos y KPIs
Cómo evaluar el mejor canal de adquisición para empezar
Cómo crear un presupuesto de marketing y cómo asignar fondos en canales pagos vs orgánicos
Cuándo y cómo invertir en marca
Creación de equipos: ¿a quién contratar primero?
¡Nos encantaría que asistieras!
Este evento es 100% online.
Fecha: 21 de septiembre de 2022
Hora: 12:00 p.m. hora Colombia