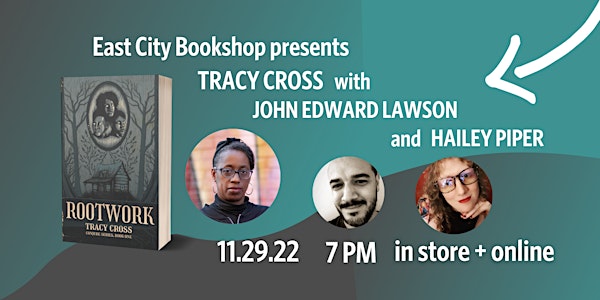 Hybrid Event: Tracy Cross, Rootwork, with John Lawson and Hailey Piper
East City Bookshop welcomes local author Tracy Cross, to discuss her new horror novel, Rootwork, with John Lawson and Hailey Piper.
When and where
Location
East City Bookshop 645 Pennsylvania Avenue Southeast ##100 Washington, DC 20003
Refund Policy
Contact the organizer to request a refund.
About this event
East City Bookshop welcomes local author, Tracy Cross, to discuss her new horror novel, Rootwork. Joining her in conversation are fellow authors John Lawson and Hailey Piper.
Note on Format: This hybrid event will have both an in-person component with limited seating as well as a virtual broadcast via Zoom Webinar. Both in-person and virtual attendees will be able to pose questions to the authors during audience Q&A.
COVID-19 Information: Please note that East City Bookshop continuously monitors public health guidance to ensure the safety of customers, authors, and our staff and reserves the right to adjust in-person events. Masks and proof of vaccination are required for all in-person attendees.
ABOUT ROOTWORK
Set in a small parish in Louisiana in 1889, Rootwork follows sisters, Betty, Ann and Pee Wee. When school lets out for the summer, the girls head off to stay with their hoodoo-practicing aunt, Theodora, an empowered woman equally feared and revered by the local townspeople. They learn how to make "hot foot powder" and the secrets of a good "black cat bone". Need to get back at an enemy? A little goofer dust will help that. The girls delight in their new hoodoo adventure, until a tragic event strikes, involving the malicious town sheriff, transforming not only their lives but also the sisters themselves. A story of love, folk magic, redemption and independence, Rootwork explores the strength of family and the darker side of the heart.
TRACY CROSS's forthcoming debut novel, "Rootwork" will be published by Dark Hart Publishing in November of 2022. She writes psychological horror fiction. Her works have appeared in Other Terrors-An Inclusive Anthology, Don't Break the Oath by Kandisha Press and 99 Tiny Terrors. You can find out more about her at tracycrossonline.com on tracycrosswrites on Instagram.
While JOHN EDWARD LAWSON has been called "The forgotten black man of horror" he also regularly publishes science fiction, nonfiction, and literary fiction. His work has been nominated for the Dwarf Stars, Rhysling, Stoker, and Wonderland Awards in addition to the Pushcart Prize. For his work as an editor John received the 2018 HWA Specialty Press Award. He currently serves as President of the Horror Writers Association. Learn more at https://www.johnlawson.org/.
HAILEY PIPER is the Bram Stoker Award-winning author of Queen of Teeth, No Gods for Drowning, The Worm and His Kings, and other books of horror. She is a member of the Horror Writers Association, with dozens of short stories appearing in Pseudopod, Vastarien, Cosmic Horror Monthly, and other publications. She lives with her wife in Maryland, where their mad science experiments are secret.
Find Hailey at www.haileypiper.com, on Twitter as @HaileyPiperSays, and elsewhere as @haileypiperfights.