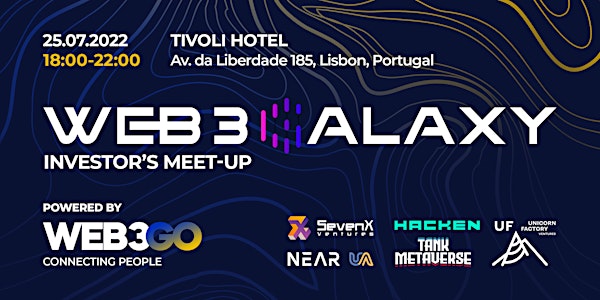 GalaxyWeb3Go
Do you want to make the right choices and gain from your investments? Join us at Avenida da Liberdade for a meet-up of a lifetime.
When and where
Location
Tivoli Avenida Av. da Liberdade 185 1250-096 Lisboa Portugal
About this event
Grab this unique opportunity at Avenida da Liberdade! This event will be hosting the best-of-the-best in our space. It's more than a meetup, it's tech-savvy, and it is for YOU.
At this event, you will learn golden investment rules that will guide and set you at the pinnacle of success in the blockchain industry.
This event is helpful for all newbies in the industry and experienced blockchain enthusiasts, NFT collectors, Web3 visionaries, gamers, crypto traders, and degens.
🎇 What to expect from us 🎇
We will have Brilliant Minds and Intellectual Leaders in our space to help answer some of our burning questions on finances and blockchain investments. Some of the questions they will be divulging include:
The current state of the crypto market.
How to make money during a bear market
Features of hedging positions
How startup projects can adapt during the bear market phase
The criteria for choosing a startup for investment
Falling hedge funds
Technological discoveries and innovations that we would like to see as a result of the end of the bear market cycle
And Lots more.
The answers to these questions are tailored in a manner that can fetch you a fortune for life. Perhaps you'd want us to answer more questions similar to these? You can join our community through the link below and drop us your investment query.
Be a part of our community to know more.
🌆 Know Your Event 🌆
Speakers for the day
1- Ailin Wang - Founder of the event brand Web3 Galaxy and a board member of AYK Capital. She has over ten years of experience working in finance and technology innovation in Europe. Since she entered the crypto and blockchain industry in 2017, she has been the marketing director of ZBX, a European regulated exchange, and the CEO of blockchain PR company ChainX. She's also the Investment Advisor of Europe and GCC for SevenX Ventures
2- Dyma Budorin - Founder and CEO of Hacken. He is a Crypto economy and cybersecurity expert and influencer.
Expertise:
- 9+ years of managerial expertise in The Big Four;
- 5+ years in cybersecurity business (Hacken);
- Invited speaker during major Web 3.0 cybersecurity events;
- One of the top 50 Ukrainian IT entrepreneurs in 2021;
- Advises the Ukrainian government on the adoption of virtual assets
- Leads the team of 80+ cybersecurity gurus.
3- Dmitriy Yastremskiy- Chief of Staff at NEAR UA - a regional hub, community, venture fund & studio, accelerator, event & hiring services for the NEAR ecosystem. Partner at TNX Ventures - a NEAR ecosystem web3 fund from Builders to Builders. In crypto since 2016.
Expertise:
18+ years of building digital solutions with a product design, management, and marketing background.
9+ years of entrepreneurship (4 companies, 2 exits).
5+ years of mentoring, advising, and fundraising for web2 & web3 startups.
4- David - Professional degen, Defi pirat, retrospective trading adviser, Head of masonic NFT-lodge, bitcoin maxi Partner, and Head of analytics at Unicorn Factory Ventures.
5- Vasil Matiy - private investor, asset manager 1st Family Office, co-Founder Smart [Sport.Money.Art]
6- Andriy from Allbridge - Andriy Velykyy is a Warwick Business School alumni who joined the crypto industry in 2015, starting with mining. In 2021 he co-founded Allbridge due to the lack of cross-chain products on the market.
7- Nicolas Weber - An early-stage crypto investor, writer, philanthropist, podcast host, and entrepreneur. He is part of the founding team at Amazing Blocks, Founder and CEO of DAC, and Founding Initiator of MGH DAO. Additionally, he is the Co-Founder of the Tokenization Working Group at the European Blockchain Association. He previously worked for established companies such as Daimler, Dieffenbacher, and Allianz Global Investors.
8- Maksym Aptilon - A serial entrepreneur with over 10 years of experience in investment banking, capital markets, electronic trading, hedge funds, and most recently, crypto business - an early adopter of crypto derivatives markets.
In late 2021, Max co-founded Dexilon – decentralized Derivatives Exchange powered by native blockchain, proprietary oracles, and a decentralized limit order book.
Since 2017, Max has been co-CEO of Smart Arbitrage Technologies – a quantitative hedge fund running market neutral and HFT strategies in crypto. Max has been responsible for the trading and operational side of the business as well as raising the firm's first $20mm of seed capital, securing a $16mm credit line from a US brokerage firm, and building several strategic partnerships with brokers, exchanges, and custody providers.
Before Dexion and Smart Arbitrage, Max was involved in several commercial ventures in renewable energy as an investor and executive manager. Max held the position of investment manager at the EBRD, focusing on financial institutions. Before that, he was an M&A analyst at BNP Paribas, involved in several large-scale M&A deals across Central & Eastern European regions.
9- Vlad Horiliy - COO at Madfish - Madfish builds amazing DeFi applications. Vlad is a Crypto and IT entrepreneur with 6 years of experience in business development.
Before Madfish, He co-founded several projects in the field of 3d modeling and game development. He also runs a DeFi community "Degen Hustle" and is a regular speaker at crypto events.
📝 Program of Event 📝
Opening speech: Ailin Wang
Keynote Speakers:
1) Dyma Budorin
2) Maksym Aptilon
3) Vlad Horiliy
Conducting Panels
1) Ailin Wang
2) David
3) Vasil Matiy
4) Dmitriy Yastremskiy
1) Andriy from Allbridge
2) Dyma Budorin
1) Nicolas Webber
2) Web3Go + Tank Metaverse
3) Dmitriy Yastremskiy
Venue
At the most beautiful and serene boulevard in central Lisbon, commonly referred to as "Avenida" by inhabitants of Lisbon.
The Avenida da Liberdade is a luxury home with a comfortable environment as it ushers you in with the warmth of its streets.
Time
6:00 pm till 10:00 pm. Be at the venue as early as possible. It allows you to connect with the environment and fellow attendees, as we will be there early too.
How To Participate
We will share a unique code on our banner and social media handles. All you have to do is to "scan the code," and you will be eligible to participate.
We hope to see you there‼️
DON'T MISS OUT
Join the community 🌎
Partners
Web3 Galaxy || WEB3go || Hacken
Near || Allbridge || SevenX Ventures || TankMetaverse