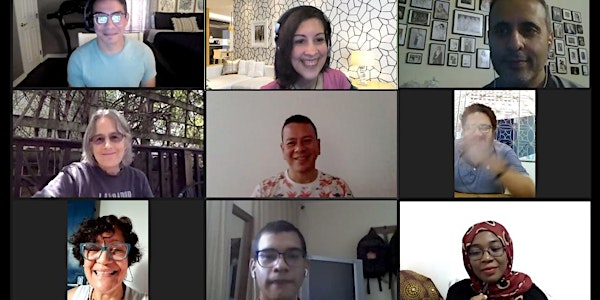 Español en cápsulas Beginners - prepositions 8/10
Along this series, you'll learn & practice different prepositions in Spanish. We share what we learned and you can ask questions.
When and where
Date and time
Sunday, February 12 · 6:30 - 7am PST
About this event
To make sure you enter the correct time, we recommend using the time zone converter. https://dateful.com/time-zone-converter On the left side you must type Venezuela and on the right side the city where you are currently located, and above it, you will see the local time of each country in real time.
This activity is for a large group, keep it in mind in case you want more personalized attention, you will always have private options for small groups. This is volunteer work that takes time and effort .
ENG: This activity is intended for people in A1 level of Spanish (very basic Spanish), the idea is learning through basic exercises and examples different prepositions, like: por, para, a, ante, abajo, debajo, contra, etc. If you want to receive the lesson material and exercises before the event, you need to contact the host.
------------------------------
ESP: Esta actividad está dirigida a personas con nivel A1 de español (español muy básico), la idea es aprender a través de ejercicios básicos y ejemplos, diferentes preposiciones, como: por, para, a, ante, abajo, debajo, contra, etc. Si deseas recibir el material de la lección y ejercicios antes del evento, necesitas contactar al host.
Utilizaremos Google meet para la reunión. No es necesario que instales ninguna app adicional, si ya eres usuario de algún producto de Google (android, gmail, etc) podrás ingresar sin contratiempos. Solo se podrá ingresar a la reunión una vez permitido el acceso por el host.
El acceso se abrirá 5 minutos antes de la hora pautada.
PASOS PARA INGRESAR:
1ERA OPCIÓN: Una vez reservado tu puesto, rcibirás un correo de confirmación inmediatamente. El día del evento puedes acceder al link de la reunión desde tu correo, en la parte final donde dice: Additional information: "click here to join".
2DA OPCIÓN: haciendo click en el título del evento irás directamente a la página principal de la reunión donde verás LOCATION y en letras azules "ACCESS LINK", allí se te abrirá otra ventana que muestra en la parte inferior izquierda un botón naranja "JOIN NOW". Presiona el botón y listo, ya estarás entrando al evento.
About the organizer
¿QUÉ ENCONTRARÁS AQUÍ?
Eventos acerca de cultura general, ciencia, economía y situaciones de la vida cotidiana. Todos ellos enfocados en mejorar las habilidades de comunicación tanto de español como de portugués y alemán, buscando también el desenvolvimiento personal en diferentes entornos: trabajo, estudio, pasatiempo y viajes.
Además puedes hallar en este espacio actividades especiales sobre música y gramática española.
Para información adicional puedes ponerte en contracto a través de Instagram: por @katzenfrau007 y @your_native_spanish