Este evento ha finalizado.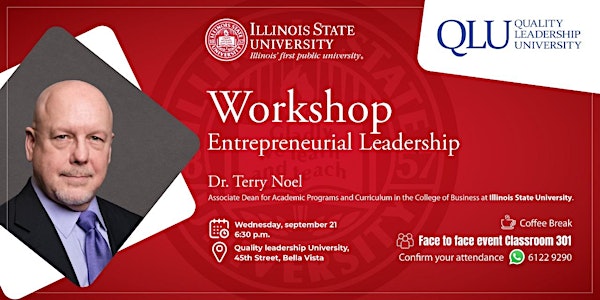 WORKSHOP - Entrepreneurial Leadership
Becoming an Effective Executive and Leader Workshop
Cuándo y dónde
Ubicación
Quality Leadership University Calle 45 Bellavista Panamá, Panamá Panama
Acerca de este evento
We want to invite you to participate in our workshop Entrepreneurial Leadership.
The objectives of this workshop are:
1) Dealing with uncertainty and ambiguity
2) Creating social, environmental, and economic value through entrepreneurial thinking
You will have the opportunity to share with PD.D Terry Noel he is the Associate Dean for Academic Programs and Curriculum in the College of Business at Illinois State University. He previously served as the Associate Director of the George R. and Martha Means Center for Entrepreneurial Studies and as the Assistant Chair of the Department of Quantitative Methods. He has taught courses in management, small business, and entrepreneurship since arriving at Illinois State University. Terry has also delivered numerous workshops and classes in the Center for Teaching and Learning Technology.
He has been published in the Academy of Management Journal, the Journal of Small Business Management, Journal of Leadership and Organizational Studies, the Journal of Business Ethics, the Journal of Management Education, the Journal of Entrepreneurship, and the Journal of Entrepreneurship Education. He is author of the book Empty Nest Egg: Why You Must Start Your Own Business NOW and The Vigil, both available on amazon.com. Terry also conducts workshops on the use of improvisational theater techniques in teaching and management.
When: Wednesday, september 21
Hour: 6:30 p.m. 
Where: Quality Leadership University, 45th Street, Bella Vista