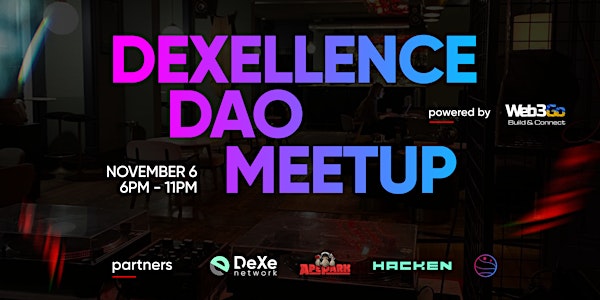 DEXEllence DAO meet-up
Join us to UkrainianDAO party of a lifetime!
When and where
Location
Rove Lisboa 22 Praça Luís de Camões #1 andar 1200-283 Lisboa Portugal
About this event
Come to our one-of-a-kind private party with DeXe and get to meet the team of a crypto project that will be the talk of the Internet soon.
Why? Because DeXe figured out a completely new way to manage assets and DAOs with incentives that work and security measures investors dream about.
Forget the old corporate ways of coming together with little trust and unfair revenue distribution. DeXe is making the DeFi dream become reality. In fact, DAOs working with or created via DeXe could be eligible for part of a pretty sizable grant. How's that for incentives?
Founders and devs from the Web3 space — this is for you!
About this event
Welcome ApePark DAO is the official decentralized governance organization for the ApePark GameFI asset management digital trading platform.
WEB3GO, and MetaGameHub DAO will undertake the preparation and media promotion implementation of your brand.
The evening provides a private setting for like-minded innovators to discuss topics, network, and, generally, have fun!
DJ, Drinks and Networking