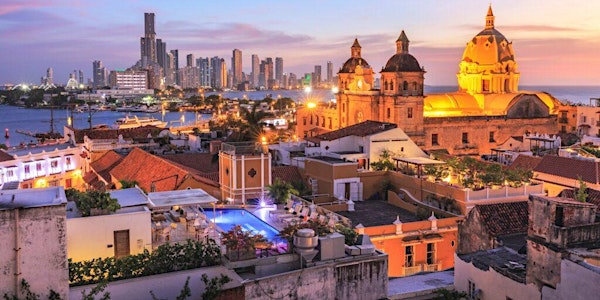 CARTAGENA MEETUP | DEC 4-8 2022
For the forward thinkers and adventure seekers; This Caribbean Coast Meetup is for you!
When and where
Location
HQ House cra. 1 #5-01 Cartagena, Bolivar Colombia
Refund Policy
Contact the organizer to request a refund.
Eventbrite's fee is nonrefundable.
About this event
VIVA CARTAGENA!
Cartagena is a Colombian coastal gem with the perfect mix of culture, tropical bliss and history. Join us as we bring an exclusive, yet powerful group of forwarding thinkers together to immerse themselves in the soul that runs through this wonderful city.
This 4 night 3 day (end of year) event was designed for those who have put in the work all year and deserve a time to unwind. To help you relax, to help you refocus and to introduce you to a network outside of your own as we head into 2023.
I've crafted a unique flow of moments and experiences that will set the standard for how you travel in the future. Are you ready?
ITINERARY
Sunday - 4 December 2022
ARRIVALS & CHECK-IN at HQ HOUSE
¡Bienvenidos a Cartagena! Our team will greet and whisk you away from the CTG Airport and take you to our 5-star accommodations which we will call the HQ House. After getting sorted in the HQ, we'll introduce everyone to the crew for the week with an opening Meet & Greet happy hour followed by our personal chef prepared dinner menu at HQ House to set expectations for the week!
Monday - 5 December 2022
DAY 1: LIFE'S A BEACH & ALQUIMICO!
Up bright and early we'll begin our first full day with a chef prepared breakfast at HQ House and then will head out for some SOL and unwind on one of Cartagenas most popular beach sections where everything is sorted ahead of time; from cabanas to lunch and drinks!
After the beach, we'll head back to HQ House and get ready for Dinner and night out with a warmup at HQ House and then private transport to Alquimico in the Walled City. Voted #10 of the top 50 bars and restaurants in the world, Alquimico is a must go while visiting Cartagena! Here at Alquimico, we will enjoy a VIP table and drink accommodations following dinner!
Tuesday - 6 December, 2022
DAY 2: "THE BEST WAY TO EXPERIENCE CARTAGENA IS ON THE WATER!"
Caribbean Sea to be exact.. White sand beach, Turquoise water, Cold drinks and cervezas! Appx. 7 hours from departure to arrival back at CTG main land. We'll spend the day out exploring the Cartagenas' islands! We'll dock at the Rosario Islands for VIP cabana accommodation included fresh seafood lunch + drinks!
The Caribbean coast around Cartagena is blessed with natural islands, gorgeous coral reefs and a deep blue and turquoise sea. Even if you're only in the city for a long weekend, a boat trip to explore the Rosario Islands is an absolute must.
Upon return to HQ House, we will enjoy another chef prepared dinner awaiting us! After dinner we will group vote on pre-planned options for the night.
Wednesday - 7 December 2022
DAY 3: THE REAL CARTAGENA!
It's time to separate the men from the boys! We'll start the day with a light boxing workout at Coliseo Bernardo Caraballo with former Colombian boxing Champ Kermin Guardia (Gloves and wraps will be provided). Break a sweat and detox from the previous day out on the islands! After boxing, we'll head back to HQ House for a healthy Colombian style brunch.
After lunch, we will head out on a guided tour and explore the Walled city and Getsemani neighborhood. This tour is designed to give you a deep dive into Cartagena's roots. We'll immerse ourselves in the local culture by trekking through the city, sampling local foods and taking in the historic early 17th century spanish architecture this great town is known for. This day will also be a good time to collect souvenirs for loved ones back home!
In the evening, we'll head back to HQ House for our final supper together. Following dinner we will take tally of the group and have a few options to Vote for the last night festivities.
NOTE: Boxing class and walled city tour are optional. IF you wish to not attend these events and do your own thing, no problemo. Just let me know!
Thursday - December 8, 2022
DAY 4: ADIOS AMIGOS! / *KARIBANA GOLF OUTING
We will wrap the final day (for those departing) with Chef prepared breakfast at the HQ House, followed by a quick week recap ceremony, Swag giveaway and airport departures.
*(optional) For those who plan to stay in town an extra day, are welcome to join the golf outing at the only TPC Golf Course in South America. We will tee off 18 holes at Dreams Karibana Golf resort at 11am. Additional info on Golf outing to Dreams Karibana golf provided upon request. Please let me know if you would like info.
What's Included?
Los Todos! This is an All-inclusive offer that covers everything from transportation to meals and booze, all itinerary activities and everything in between. We've carefully crafted an itinerary tailored to give you a deep dive into all that Cartagena has to offer. In addition to soaking in the city's rich history, you'll meet individuals from all walks of life! And most importantly, we've done all of the planning and hard work for you. Just show up ready to enjoy yourself!
THE CITY
Cartagena is one of Colombia's most vibrant destinations. Filled to the brim with an assortment of attractions, Cartagena is a cultural enclave of soul and innovation with something to offer everyone. The music, the people, and most importantly, the history make Cartagena a city to remember.
THE COAST
Cartagena's beaches are second to none and you'll have full access to enjoy the unbelievably blue waves and warm sands. Soak in the sun, the views and the soothing sounds of the water. You'll return home with a tan that will make all of your friends envious they didn't join you!
THE COMFORTS
HQ HOUSE. Your home away from home for the week is a Lush, secured accommodation in one of the exclusive areas in Cartagena, but just a stone's throw from popular attractions. You'll find it's the perfect place to relax and lay your head after a day of exploring in the city. And yes, there's wifi!
WHY JOIN NOW?
I believe building a community full of individuals worldwide who are forward thinking and successful in their own fields is important for expansion and growth both personally and financially.. These are the types of people who will be invited alongside yourself on this journey. We've intentionally limited the group to no more than 12 travelers to make sure everyone gets the appropriate attention & the chance to connect with like-minded individuals.
Trip Pricing
1 VIP ALL INCLUSIVE (SINGLE OCCUPANCY SUITE 1BR + 1BA)
starting at $2,500 per person ($625 / Day)
YOUR PAYMENT OF $2,500 (OR IF YOU ARE UTILIZING OUR PAYMENT PLAN
OPTION, AN INITIAL DEPOSIT OF $1000 and Final balance $1500 paid by November 28)
What's Included?
4 nights at an upscale, private HQ House
Transfers to/from CTG airport All activities on Itinerary and transportation to/from activities
All breakfasts (Mon-Thur), 3 Lunches, All Dinners (Sun-Wed)
Supplies for HQ House including Water, Food, Snacks, plus Booze!
Personal Cook and prepared meals (Breakfast and dinner)
Private Security @ HQ House the entire stay
VIP accommodations + food and drinks at nightclubs and Island boat excursions (See itinerary)
A few more surprises!
What's Not Included?
Flight to/from Cartagena
Travel Insurance (we recommend purchasing coverage for your trip)
Incidental room charges in hotels/accommodations
Individually selected activities during your free time
Individual tips to experience providers and venues
Are You Coming?
There comes a time when you have to decide who you want to be in life and what kind of connections you want to make. This is that chance. This event has been meticulously designed to relax, rejuvenate and refocus you for a successful 2023. You will leave this journey invigorated and hungry to work not just harder but also smarter than you ever have before. This, I can Guarantee!
You have been handpicked by event organizers. You deserve this. Are you ready? Cartagena is waiting for you...