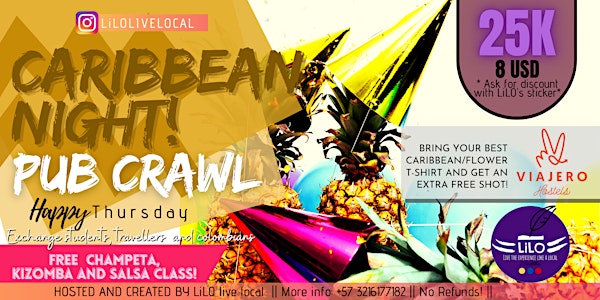 Caribbean Night Pub Crawl by LiLO
With the most amazing local crew we go to the best clubs around Poblado dancing, having fun and drinking just a bit with caribbean style ;)
Fecha y hora
jue., 20 de abr. de 2023 21:00 - vie., 21 de abr. de 2023 6:00 -05
Ubicación
Viajero Hostel Medellín Calle 11ª No. 43D -11 Medellín, Antioquia 050021 Colombia
Política de reembolso
Contacta con el organizador para solicitar un reembolso.
Acerca de este evento
9 horas

Entrada electrónica móvil
💜 Hey LiLO's family! live this awesome experience of: CARIBBEAN BAR HOPPING 🌎
▶ ¿WHAT IS THE EXPERIENCE ABOUT? We know you love partying as much as we do! That's why we decided to make a CARIBBEAN PUB CRAWL by LiLO tonight! With the most amazing crew we go to different clubs around Poblado area dancing, having fun and drinking just a little bit 😉 🎊
📍Meeting point: El Viajero Rooftop Bar
Calle 11a #43d -11
📅 Date: EVERY Thursday
🕤 Time: 8:30 PM.
💲Cost: FREE by showing the sticker from LiLO AFTER 11:00 pm ($25,OOO cop if you don't have the sticker but still wanna join or any of your friends! ~ 8 USD)
First 20 girls get in for FREE. And after 9 pm, it's 2x1 for girls!!!
✔ Includes: → FREE Kizomba, Champeta & salsa clasees → Flower necklaces → Bar hopping Tour → Entrance to 6 different bars/clubs → Discounts → Games → 6 shots + → Local/exchange and friendly people
✅ If you wanna book your place or have any question text us here:
📞 +57 3216177182