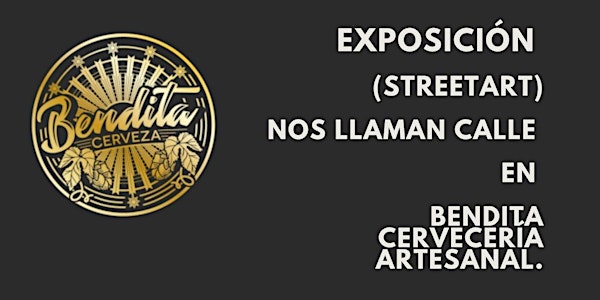 Art exhibition: They call us street at Bendita Cervecería Artesanal
Art exhibition: They call us -Bendita Cervecería Artesanal. Diciembre de 2022. Carrera 22 # 74 - 02. San Felipe. Bogotá. Colombia.-
When and where
Location
Bendita Cerveza Artesanal 74 - 02 Carrera 22 Bogotá, Bogotá 111211 Colombia
About this event
Nos llaman calle (They callus street)
By Juan Pablo Plata
Private and public institutions have accompanied the creative and expressive force of Bogotá street artists, because they have found aesthetic value and even graphic denomination of origin, that is, that the images of the producers have a local flavor and an unusual quality, which is recognized abroad: faraway from the Colombian borders.
The exhibition They call us street (Nos llaman calle) has selection of local artists from Bogotá in order to have a closure of 2022 that brings together the creators of these graffiti and stencil formats and ordinary citizens as active spectators who also can write and draw their imagery next to the artists summoned throughout the city. Since for sanitary reasons street art and life in general had a brake that with these encounters around art can be compensated. A large part of the creations present in this exhibition were made during the pandemic and this is the opportunity to celebrate the graffiti and the strokes of ink, without discount to extol the opportunity to dialogue and see the community of the art district of San Felipe.
Greiza BTÁ, Skea, Sin last name, Inksurrección and Urda make up a group of emerging and consolidated artists in the plastic arts of the city where they live as nomads expressing themselves on issues as critical as social leaders or hilarious images as a toilet paper flying in the clouds: heavenly. They call them street and they are the successors of Toxicómano, Belligerante, Somos, Pingüino, Erre, among others.
This is such a suggestive event with these artists that will make you want to graffiti and start walking around the city, of course, from San Felipe and Bendita Cervecería on.
December 2022.